Thermal Shutoff Valve Protects Analyzer Equipment
In labs across the country, samples are being collected, analyzed, and monitored for impurities. One of the most critical components of a sampling system suitable for most applications in liquid, gas, or steam processes is the sample cooler. Sample coolers cool the sample from a process stream to the required temperature conditions for safe and immediate analysis.
So what would happen if the cooler failed to lower the sample temperature to a safe range before entering the analyzer? Simply, nothing good.
Irreparably damaged parts, expensive repairs, and delayed projects can be easily avoided by adding a fail-safe in between the sample cooler and analyzing equipment – a thermostatic emergency shut-off valve.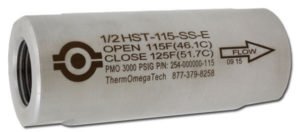 The High Sample Temperature HST valve is an in-line thermal shutoff valve that is installed to sense the sample temperature when it exits the cooler and automatically controls flow based on fluid temperature.
The HST is normally open to allow samples to pass through it. The sample temperature is constantly monitored by the valve's internal thermally-activated actuator.
Should the sample temperature exceed the valve's set-point, the thermal shutoff valve rapidly closes and remains closed until the sample has sufficiently cooled to prevent over-heated samples from entering analyzers.
Sample Installation

Self-operating and designed with a ram-type plug for a leak-proof seal, the HST is offered in a wide range of temperature shutoff points from 100°F to 185°F (37.8°C to 85°C) to suit any application.
The HST valve is unaffected by inlet pressure variations and functions completely mechanically, requiring no source of electricity to operate.
Our valves are 100% Made in America with stainless steel components for a guaranteed long service life with no maintenance requirements.
Install the HST valve to take the worry out of protecting your lab equipment. Should you have any questions, please do not hesitate to contact our dedicated team of product experts!
May 15, 2019