Thermal Bypass Valves 
To meet the market's demand for efficient and accurate temperature control, ThermOmegaTech® developed a thermal bypass valve (TBV), which has been implemented in a variety of groundbreaking Aerospace and Defense applications where precise thermal management is critical to project success. 
From the need for almost instantaneous warm-up times to thermal relief to protect delicate electrical components from overheating, thermal management is evolving to keep up with the growing system complexity of modern aircraft and ground equipment.
We provide off-the-shelf valves and custom solutions to help our customers meet their temperature control requirements on land and in the sky. 
Discuss Your Project Requirements


How Thermal Bypass Valves Work
Thermal bypass valves (TBV) are a temperature solution to a temperature problem. Designed with our exclusive Thermoloid® thermostatic actuator technology, the TBV automatically maintains fluid temperature within a narrow and predefined temperature range to ensure optimal system operation, reduce system wear, minimize warm-up times, and extend component life.
The TBV's thermal actuator continuously monitors the inlet flow's temperature and directs it accordingly throughout the system. If the fluid temperature exceeds the valve's set-point, the TBV automatically self-modulates to divert flow to the system's cooler or heat exchanger. If the fluid temperature is below the set-point, the flow is bypassed directly to the reservoir and circulates through the system.
Innovatively designed to suit various applications, the 3-way thermal bypass valve can precisely proportion flow in response to fluid temperature variations in mixing and diverting applications.
Our TBVs can monitor and control any system-critical fluid, including coolant, glycol, oil, hydraulic fluid, water, air, and more.
Benefits
Self-Operating: No need for an external power source
Dynamic: Used in both mixing and diverting applications
Compact and Low Mass: Fits into most designs
Thermostatic Element: Responds to temperature changes and is unaffected by pressure variations 
Self-Contained: No or minimal maintenance requirements
Few Moving Parts: Eliminates component complications or failure
Large Temperature Range: Standard valves are available in temperatures from 35°F to 210°F (1.7°C to 98.9°C)
Mixing and Diverting Thermal Valves (mouse over images to animate)
Thermal Diverting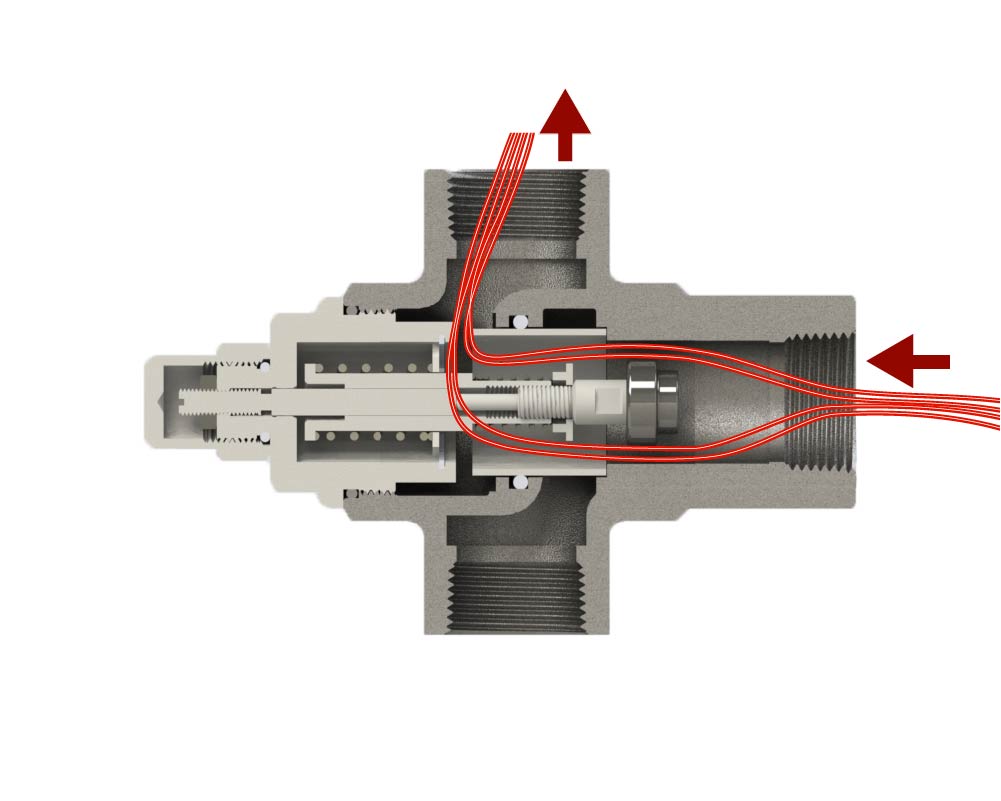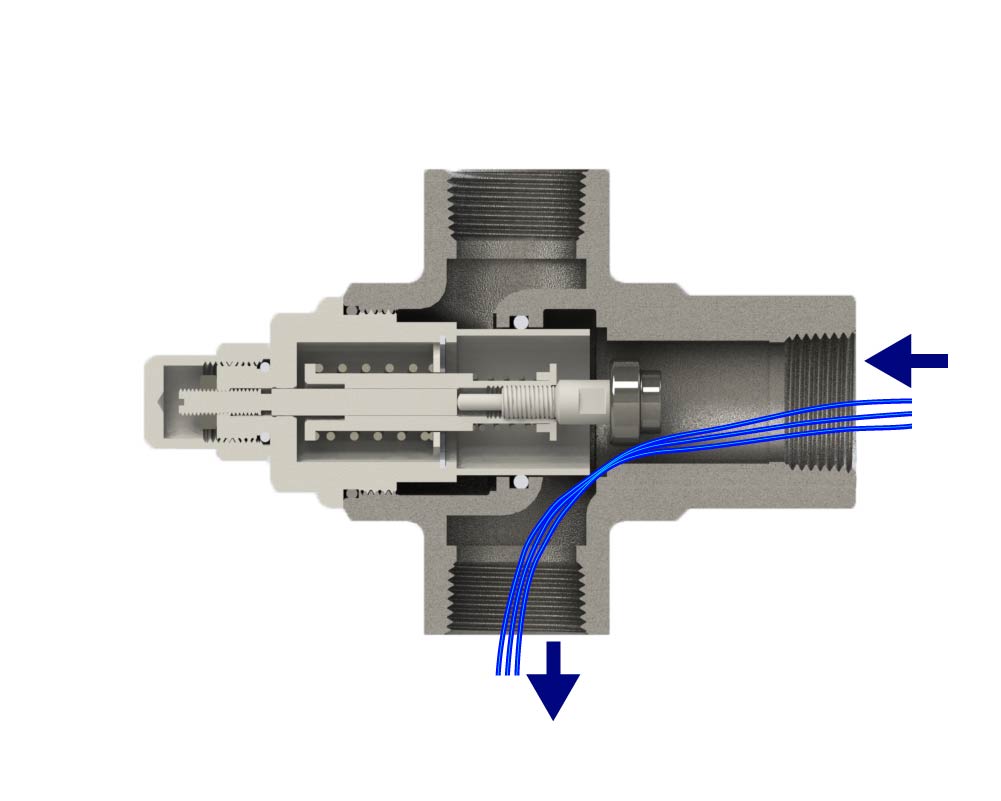 In a 3-way diverting application, the TBV diverts a single inlet flow to one of two outlet ports, depending on fluid temperature. Cooler fluid is shifted to the reservoir while hotter fluid goes through the heat exchanger.
Thermal Bypassing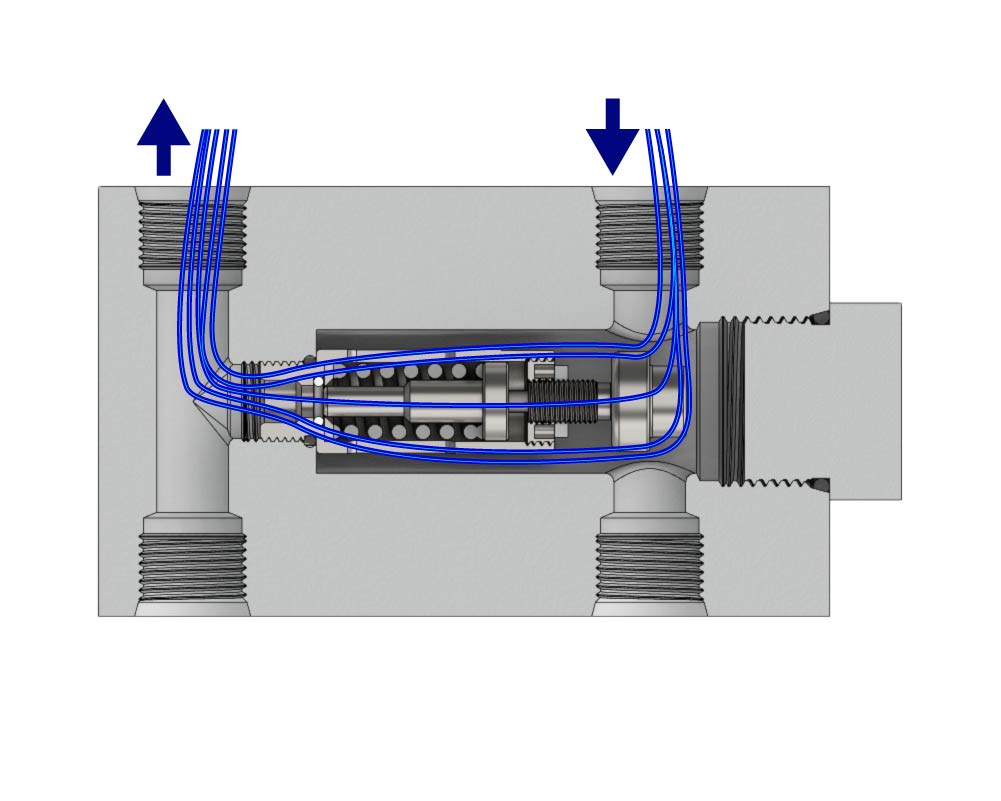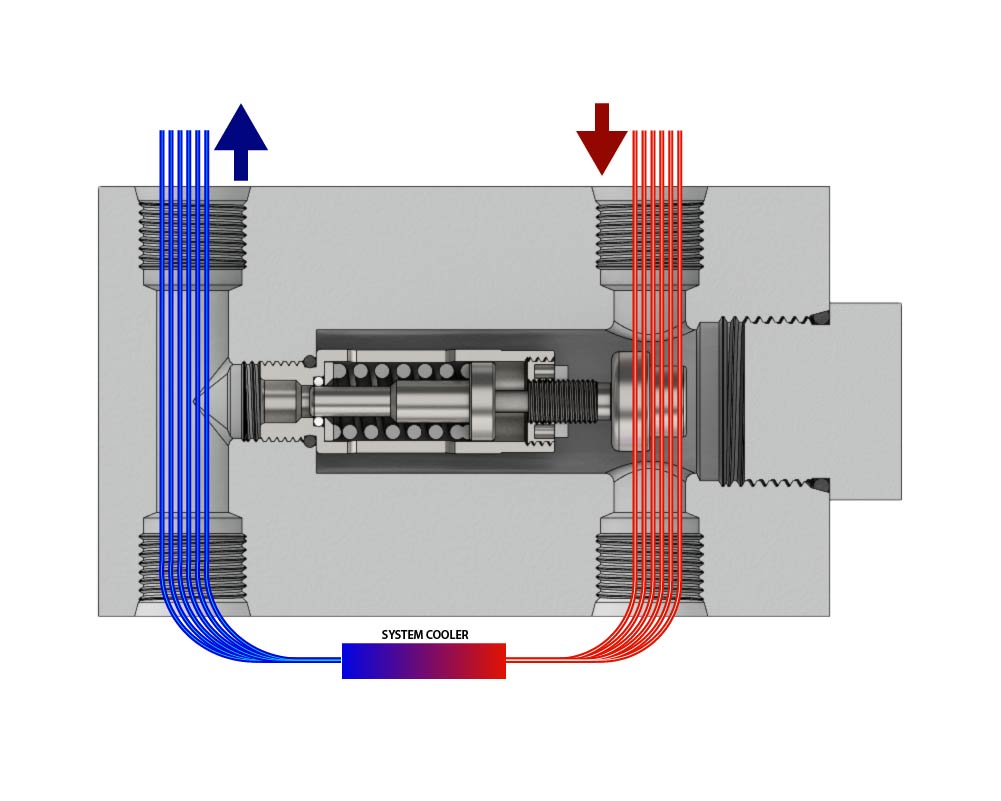 The TBV cartridge can be integrated into a 4-way manifold to monitor inlet flow and divert the fluid based on temperature. Cooler fluid goes through the valve bypass, while hotter fluid goes through the system's cooler.
Thermal Mixing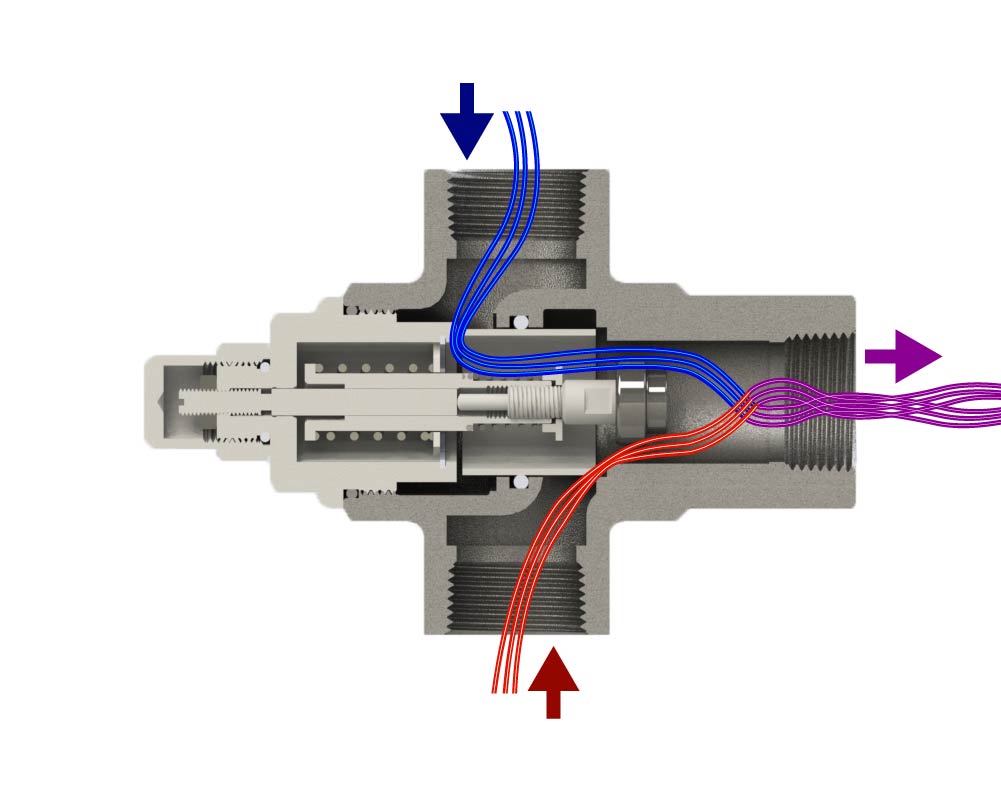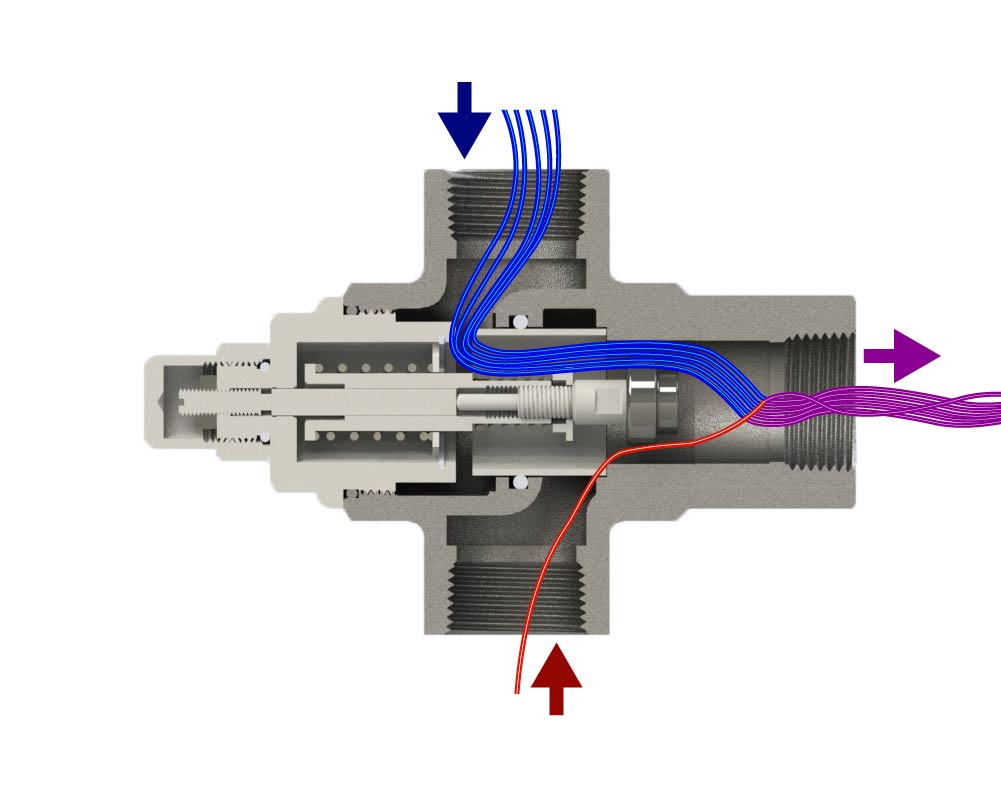 In a 3-way mixing application, the TBV modulates between "hot" and "cold" inlet feeds to mix the fluid to the desired outlet temperature proportionately.


Applications
Thermal bypass valves are used in Aerospace and Defense applications to maintain system temperatures within an optimal operating range.
Typical applications that utilize the TBV include but are certainly not limited to:
Electronics system cooling
Hydraulic fluid cooling systems
Hydraulic thermal bypass
Lube oil cooling control
Lube oil thermal bypass
Fuel/oil cooler
Cooling water control for radiators & heat exchangers
Direct cooling with water
Engine and compressor cooling systems
Space vehicle cabin air control
Loop-type circulation systems
Direct injection water heating
Process control
Make-up water
Mobile oil coolers
Battery cooling
For additional applications for the TBV in industrial facilities, please visit thermomegatech.com/product-categories/thermal-bypass-valves/.


Cartridge Integration
We offer thermal bypass valve cartridges to ease integration into pre-existing systems for bypass applications with unique designs and strict space requirements. The TBV cartridge allows for implementing the same thermal actuator control element as our standard TBVs without the housing to enable easier integrations into manifold designs.
Our in-house engineers can work with your team to design a manifold housing for the TBV cartridge to integrate into your system if you don't have a current design specified. We can also manufacture the manifolds in our state-of-the-art machine shop along with the cartridges if desired. Contact our product experts to discuss your design if you're looking for a cartridge-style TBV.
Customizations
As standard, our thermal bypass valves are offered in ½", 1″ and 2″ NPT threads, brass or stainless-steel housings, and temperatures ranging from 35°F to 210°F (1.7°C to 98.9°C) depending on your application's needs.
If one of our standard valve offerings does not meet your individual project's requirements, our engineers and project managers will work with you to design a solution that solves your thermal control challenge. Changes can be made to a valve's opening/closing temperatures, flow rates, threads, materials, the number of ports, their size, and configuration. If you require lower temperatures than our standard offering, please complete our custom actuator or valve form and send it to our team.
To discuss additional customizations and your design needs, we offer personalized Lunch & Learn consultations with ThermOmegaTech's® Aerospace & Defense product specialists and design engineers.

Contact Our Design Team


Past Projects
Our TBVs have been implemented into dozens of systems throughout the Aerospace & Defense industries. Engineers, scientists, and military personnel rely on their precise thermal control to ensure project success, no matter where on earth, sea, or sky it is taking place.
Examples include hydraulic fluid temperature control on the Patriot missile system radar set, thermostatic control for heat exchangers on nitrogen generating carts for on-ground aircraft servicing, FMTV, and other military tactical land vehicles. Our cartridges have been implemented into hydraulic fluid temperature control designs on self-propelled military tactical vehicles, electronics cooling on F-16 Fighting Falcon & SABR AESA radar, environmental temperature control on manned and unmanned spacecraft, and liquid cooling on unmanned UAVs.
Many of these projects required modifications to our standard products, including lower/higher wax melting temperatures, manual overrides, diffusers, and manifold integrations.