ThermOmegaTech Featured in Aviation Week Webinar
Thermal Bypass & Thermostatic Control in A&D Applications
ThermOmegaTech was featured in the AviationWeek webinar, as Sr. Design Engineer, Glenn Quinty discusses the need for thermal bypass and thermostatic control in critical aerospace & defense applications.
As technology advancements in A&D applications continue to rapidly develop, key factors such as strength, weight, and reliability are essential when evaluating components to be integrated into your designs. During the AviationWeek webinar, peers learned the benefits of using thermostatic technology in aerospace and defense applications such as thermal bypass, electronics cooling, avionics cooling, airflow control, and scald protection.
The goal of the webinar was to educate our peers on the importance of self-powered devices in various A&D applications, how thermostatic wax valve actuators operate under different conditions, best practices of thermal management, and what customizations can be made to thermostatic valve designs.
Get To Know The Speaker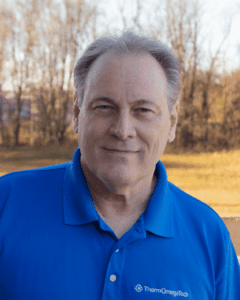 Graduating from Villanova University with a Mechanical Engineering degree in 1990, Glenn Quinty is a highly trained and technical design engineer, with 30+ years of experience.
Previously employed by Hale Products Inc., as their Product Engineer/Designer and Thermo Seatronics, as a Project Engineer, Quinty has extensive knowledge of actuators, valves, pumps, sensors, hydraulics, pneumatics, and other mechanical operations used in a multitude of applications.
Quinty has been part of the ThermOmegaTech team for 18 years and is currently the Sr. Design Engineer, developing innovative thermostatic solutions for the aerospace and defense, industrial, railroad, and commercial plumbing industries. With expertise in complex design mechanisms and new product development, Glenn oversees projects from start to finish, utilizing DFM and DFA techniques to design thermostatic, self-operating valves and devices.
Click here to watch the full webinar.