The Secret to Protecting Your Investments all Winter Long with Freeze Protection Valves
It might not have been the coldest December we've had, however, the weather can be unpredictable as January has already started to see some really low temperatures across the United States. If you haven't prepared your supply lines for the cold weather yet, then now is the time! Protect your dry-docked ship's water supply lines from freezing with ThermOmegaTech's HAT/FP Freeze Protection Valves.
Why Thermostatic Freeze Protection Valves?
ThermOmegaTech's HAT/FP Freeze protection valve is the most economical and efficient solution to preventing frozen water lines.
Installed in-line, the valve constantly monitors current temperatures and automatically opens to drain cold water before it can freeze and cause damage, then closes once warmer water backfills.
The valve is 100% mechanically operated, eliminating costly human error associated with manual valves, reducing water usage, and ensuring that your supply lines stay freeze-free all winter.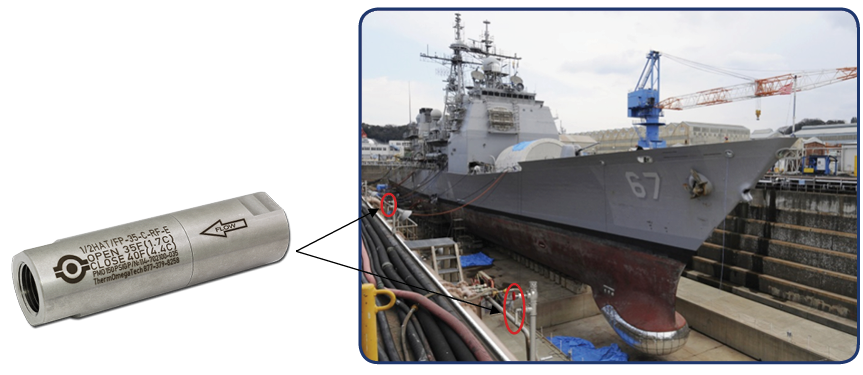 100% mechanically operated
Fast-acting & rapid response to temperature
Resistant to human-error
Requires no outside source of electricity
Long service life/no maintenance requirements
Compact design – fits into existing systems
HAT/FP Installations 
ThermOmegaTech's HAT/FP valve is trusted by naval bases across the country. These reliable valves prevent freezing, minimize water usage, and reduce utility bills each winter.