2022: ThermOmegaTech's Aerospace & Defense Division Year in Review
We had another great year, thanks to you!  Join us as we celebrate our 2022 Aerospace & Defense Division Year in Review success and see what we have planned for next year.
2022 HIGHLIGHTS
We hired Josh White as our A&D Business Development Manager and are excited about his work in the Aerospace and Defense Division. Josh is a former Air Force One pilot with over 20 years of operational military aviation experience. His expertise and skills in the aerospace industry will help us to develop new processes and streamline our strategies to serve our customers better.
We brought on a new A&D rep J.D. Technologies Global, who works with high-quality, complementary manufacturers of products and services that serve the aerospace, military & defense, medical, and industrial markets. We are very excited about this partnership and proud of the work we've done with them in 2022, and looking forward to 2023.
TRADESHOWS WE ATTENDED
We attended the Sea, Air and Space Expo in National Harbor, MD in April.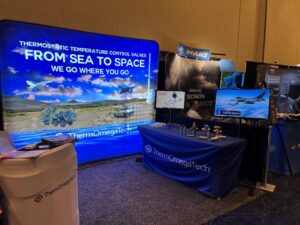 NEW LITERATURE & VIDEO
We released a whitepaper on Thermal Actuator Technology. You can read it here.
Our Senior Product Specialist, Glenn Quinty, hosted a webinar with SAE Media Group on how Thermostatic Technology Improves System Efficiency. Watch it on-demand now.
We released a new video explaining how our Thermal Bypass Valves operate and the applications they can be used in the aerospace and defense markets.
LOOKING FORWARD
We are excited to announce our affiliate company TJM Electronics, is merging with ThermOmegaTech! The merge will take effect on January 1, 2023.
The new electronics division of ThermOmegaTech will continue to provide high-quality PCB assembly contract manufacturing services for the Aerospace and Defense, Medical, Industrial, LED lighting, and consumer electronic markets.
Merging TJM into the ThermOmegaTech brand will allow us to streamline processes and offer more services to our customers. Read about our merge here.
Thank you and see you in 2023!